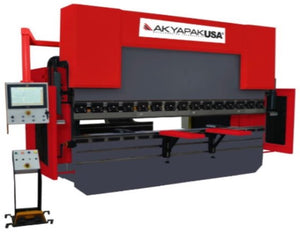 149 Ton X 10' Press Brake
149 TON X 10' PRESS BRAKE WITH NEXT 1.0 CNC CONTROL, W/10" COLOR TOUCHSCREEN, SINGLE AXIS BACK GAUGE, 19" THROAT DEPTH TO UTILIZE FULL-LENGTH DEEP BENDS & FRONT SUPPORT ARMS ON LINEAR GUIDES, MANUAL CROWNING, Y1- Y2- X - R AXIS, STANDARD TOOLING.
GENERAL SPECIFICATIONS
BENDING FORCE: 149 TONS 

BENDING LENGTH: 120" 

THROAT DEPTH: 10"

MAX STROKE: 13"

BACKGAUGE SPEED: 1180 IPM

OIL TANK: 106 GALLONS

DIMENSIONS LxWxH: 262" x 112" x 138" 
Standard Features

- Rigid frame designed on SolidWorks with stress and deflection analysis, welded by certified welders, and machined to 0,01 mm precision in a single piece.
- NexT 1.0 10" Color Touchscreen CNC Control
- Dependable servo-hydraulic system by Hoerbieger GmhB Germany.
- Honed, chrome-covered cylinders with high precision ground pistons
- Y1-Y2 synchronized hydraulic cylinders running on dual ram guides on each side for smooth ascend and descend.
- Single-axis back gauge (X) with manual height adjustment, running on ballscrews for maximum accuracy.
- European style punch clamps with quick-release handles
- European die holder with a quick-change mechanism.
- Full-length precision ground and hardened punch and 4V die set.
- High stroke and daylight for deep box/panel bending.
- 500 mm throat depth to utilize full length and deep bends.
- High-resolution linear scales with an accuracy of 0,01 mm for precise bending.
- Front support arms sliding on linear guides to easily gauge small parts.

Optional Features

- Front laser guards for finger protection.
- Manual or Automatic crowning of die bed for even angles along the full length of bend.
- Custom design throat, stroke, and daylight.
- Large selection of punches and dies. 
Technical Specifications
| | | | | | | | | | | | | | | | | | | | |
| --- | --- | --- | --- | --- | --- | --- | --- | --- | --- | --- | --- | --- | --- | --- | --- | --- | --- | --- | --- |
| MODEL  | Bending Length | Bending Force | Stroke | Daylight | Distance Between Frames | Y-Axis Freefall Speed | Y-Axis Bending Speed | Y-Axis Return Speed | X-Axis Stroke | Backgauge Speed | Main Motor | Oil Tank | Length | Width | Height | Throat Depth | Table Height | Table Width | Weight |
|   | A |   | I | J | B |   |   |   |   |   |   |   | L | E | G | H | F | K |   |
|   | inch | Ton | inch | inch | inch | IPM | IPM | IPM | inch | IPM | hp | gal | inch | inch | inch | inch | inch | inch | lbs |
| 3700-135 | 146 | 149 | 11 | 21 | 122 | 425 | 24 | 378 | 31.5 | 591 | 15 | 53 | 169 | 93 | 105 | 19.7 | 33.5 | 3.3 | 20,330 |
| 3700-300 | 146 | 330 | 11 | 21 | 122 | 285 | 24 | 285 | 31.5 | 591 | 29 | 79 | 172 | 106 | 117 | 19.7 | 36.2 | 5.9 | 34,870 |