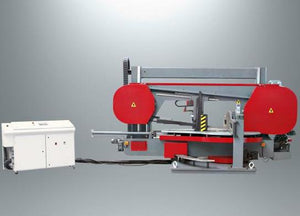 AST 1200-500 Bandsaw
PLEASE CONTACT US FOR PRICE & SHIPPING
BANDSAW
This Miter Bandsaw has been designed with a rigid frame and equipped with high quality components to guarantee the best sawing results. With the increased cutting speed, the Akyapak Miter Band Saw can cut materials at 90°or at miters. The saw can be installed in tandem with an Akyapak Beam Drilling Line or as a separate line.

A steel swarf brush removes swarfs from the blade and thus the saw's performance increases, keeping wear at a minimum.

The automatic blade tensioning system, which is controlled hydraulically, reduces faults in the cutting process. The saw approaches the material with a maximum feed rate. When it almost touches the materials, it decreases to the required feed rate and thus the sawing cycle reduces.

The material is fed through the saw in a straight position. The saw can carry out miter sawing operation up to an angle of 45° to the left and 60° to the right. The saw is turned to the required position by a servo motor via CNC. After it reaches the required position, the main frame is clamped by compact hydraulic cylinders.

When the saw frame is turning, rollers on both sides of the saw rise by 10 mm. Thus easy and fast turning of the saw is guaranteed, reducing wear on the table of the saw.

• The angled cutting position is adjusted by servo motor (brought to its position).
• It can be adjusted the cutting speed and its progress according to the material.
• Cutting speed = Band speed
• Cutting progress = The vertical movement of bandsaw.
TECHNICAL SPECIFICATIONS
AST-1200

Main Saw Motor

hp

14.75

Mitering Servo Motor

hp

2

Brush Motor

hp

0.16

Coolant Oil Pump (opt)

hp

0.16

Hydraulic Pump

hp

7

Bandsaw lenght

in

35423/32

Blade type

Lenox

ArmorRx+ 54x1,6 TPI:2/3
(Bi-Metal)

Cutting Speed

ft/min

1.31

Length x Width x Height

ft

15.55'X7.71'X8.2'

Working Height

in

311/2

Weight

 Ibs

14,727

Mitering angle

°

+60°/-45°

Sawing Capacity max. (WxH)

in

471/4X1911/16

Sawing Capacity min. (WxH)

in

29/16X149/64
CUTTING PARAMETERS
AST-1200

Cutting Capacity 0°

Round

in

1911/16

Square

in

1911/16

Flat

in

47 ¼X1911/16

Cutting Capacity +45°

Round

in

1911/16

Square

in

1911/16

Flat

in

2917/32X1911/16

Cutting Capacity +60°

Round

in

1911/16

Square

in

1911/16

Flat

in

1911/16X1911/16

Cutting Capacity +15°

Round

in

1911/16

Square

in

1911/16

Flat

in

435/16X1911/16

Cutting Capacity +30°

Round

in

1911/16

Square

in

1911/16

Flat

in

393/8X1911/16