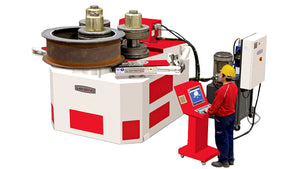 APK 240 Hydraulic Angle Rolls
PLEASE CONTACT US FOR PRICE & SHIPPING
The price depends on the capacity of the models and optional equipment. 
The robust and reliable AKBEND Angle Rolls are fabricated using high-strength welded steel (ST-52). The high-strength frame means minimal flex and distortion and enables the use of larger roll diameters. Large bearings fitted as standard make the machines durable and ensure high bending torque can be obtained.
All three rolls are driven, further increasing accuracy and torque and minimizing the materials' slip during the bending process. The two bottom rolls are moved by hydraulic cylinders, and the movement is independent of each roll. This feature, compared to other machines driven from the top roll, gives AKBEND machines a much better pre-bending process on both edges. Side supports can move in three directions to facilitate bending processes and reduce deformation, especially for angle and spiral sections.
Standard Equipment:
• Machine body is ST-52 steel construction
• On APK 280-240 and APK 180, rolls are driven by a hydraulic motor + planetary gearbox. On APK 300, top and lower rolls are driven with two separate planetary gearboxes. On APK 550, rolls are driven via 3 separate hydraulic motors.
• Variable speed of rotation on APK 180, 240, 280
• Special steel gears
• Shafts made of special steel, hardened and grounded
• Manual lubrication
• On APK 550, APK 300, APK 280, APK 240, and APK 180, guide rolls are hydraulic adjustable
• Lower rolls are hydraulic movable up and down
• Digital display for lower rolls
• Separate and movable control panel
• Horizontal working
• 400 volt / 50 hz
• AKYAPAK Service assurance
• Suitable for CE, ISO 9001-2008, TSEK, and TURQUM certificates
Optional Equipment:
• Special rolls for tubes, profiles, and angles
• Special tooling system for bending H, I, and U profiles
• Spiral bending device
• Variable speed of rotation on APK 300, APK 360, APK 550
• Minimum speed mechanism for lower roll's up and down move
• Extended shafts
• Digital display for hydraulic guide rolls
• NC Playback Control System
• CNC Graphic Control System
• Joystick control
| | | | | | | | | | |
| --- | --- | --- | --- | --- | --- | --- | --- | --- | --- |
| Model | Angle Leg- Out | Angle Leg-In | Flat Iron on Flat | Flat on Edge | Pipe * | Beam Easy-Way | Beam Hard-Way** | Diameter Rolls | Weight (Lbs) |
| APK 180 | 6 x 6 x 5/8 | 5 x 5 x 3/4 | 8 x 2 | 6 x 1/2 | 6 | W8 | W5 | 18-1/8 | 20,400 |
| APK 240 | 6 x 6 x 1 | 6 x 6 x 1 | 12 x 2-1/2 | 8 x 1-1/4 | 8 | W14 | W6 | 21-5/8 | 35,800 |
| APK 280 | 8 x 8 x 1 | 8 x 8 x 3/4 | 16 x 3 | 10 x 1-1/4 | 10 | W18 | W8 | 26 | 40,800 |
| APK 300 | 8 x 8 x 1-1/8 | 8 x 8 x 1 | 18 x 3 | 10 x 2-1/2 | 12 | W21 | W10 | 29-1/8 | 58,100 |
| APK 360 | 8 x 8 x 1-1/4 | 8 x 8 x 1-1/4 | 22 x 4 | 16 x 2-3/8 | 20 | W33 | W16 | 31-1/2 | 113,300 |
| APK 550 | 8 x 8 x 1 | 8 x 8 x 1 | 25 x 4-5/8 | 11 x 3-1/2 | 22 | W36 | W24 | 31-1/2 | 135,500 |
| APK 800 | 8 x 8 x 1-1/4 | 8 x 8 x 1-1/4 | 40 x 6 | 20 x 5 | 24 | W40 | W30 | 33 | 165,500 |
| APK 1000 | 8 x 8 x 1-1/4 | 8 x 8 x 1-1/4 | 40 x 7 | 20 x 6 | 24 | W40 | W40 | 33 | 188,000 |
*Requires Special Dies
**Requires Pulling Device