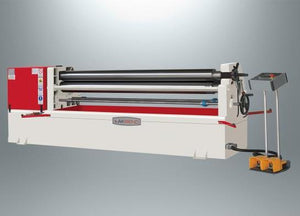 ASM 3 Roll Asymmetrical Plate Rolls
PLEASE CONTACT US FOR PRICE & SHIPPING 
The price depends on the capacity of the models. When requesting a quote, please provide the below-required capacity information or the name of the model listed below:

Working Length:?
Max Thickness:?
Pre-bending Thickness:?
Top Roll Diameter:?
Minimum Bending Diameter:?
The ASM model is made of cast iron construction. The ASM plate rolling machines are combining the user-friendly features, quality, and best prices as an economical 3-Roll Plate Roller. The asymmetric design allows for alignment before bending. The sheet pinched between two rolls maintains its position during bending and guarantees precise bending.
 Standard Equipment;
• Body is made of cast iron construction
• Central rollers powered with electric motor, gearbox, and gear drive
• Cone bending device
• Self brake main motor
• Upper roll is openable by side
• Lower roll and back roll are with hand wheels up & down adjustable.
• Separate electric control panel with foot pedal
• Suitable for CE, ISO 9001-2008, TSEK, and TURQUM certificates
Optional Equipment;
• Induction hardened rolls.
• Back roll with a motor.
• Digital display.
| | | | | | | | |
| --- | --- | --- | --- | --- | --- | --- | --- |
| MODEL  | Length  | Pre-bending Thickness | Max Thickness | Top Roll | Min. Bending Dia. | Motor Power | Bending Speed |
| ASM 110-10/4.0 | 3' | 8 ga | 3/16" | 4.3" | 5.9" | 3 HP | 14.8 ft/min |
| ASM 110-12/3.5 | 4' | 10 ga | 8 ga | 4.3" | 5.9" | 3 HP | 14.8 ft/min |
| ASM 110-15/3.0 | 5' | 11 ga | 10 ga | 4.3" | 5.9" | 3 HP | 14.8 ft/min |
| ASM 110-20/2.0 | 6' | 14 ga | 11 ga | 4.3" | 5.9" | 3 HP | 14.8 ft/min |
| ASM 120-12/4.0 | 4' | 8 ga | 7 ga | 4.7" | 6.9" | 3 HP | 16.1 ft/min |
| ASM 130-10/5.0 | 3' | 3/16" | 1/4" | 5.1" | 7.5" | 3 HP | 17.4 ft/min |
| ASM 130-15/4.0 | 5' | 8 ga | 7 ga | 5.1" | 7.5" | 3 HP | 17.4 ft/min |
| ASM 130-20/3.0 | 6' | 11 ga | 8 ga | 5.1" | 7.5" | 3 HP | 17.4 ft/min |
| ASM 140-12/5.0 | 4' | 3/16" | 1/4 " | 5.5" | 8.3" | 3 HP | 18.0 ft/min |
| ASN 140-20/4.0 | 6' | 8 ga | 7 ga | 5.5" | 8.3" | 3 HP | 18.0 ft/min |